Rafael Nadal and French Open has always had a great relationship. French Open 2020 is not different either. In just concluded French Open 2020, Nadal has just made untouchable record by wining the French Open for 13th time. With this win Nadal is now the joint record holder of most grand slam winner with 20 grand slams along with Roger Federer.
Know everything about all the longest grand slam matches ever.
The king of clay is now currently ranked No.2 at the ATP Tennis Rankings. Nadal had missed the US Open 2020 and the Italian Open earlier this year with the ongoing CoVid-19 situations. But, it was obvious his return to the Ronald Garros would be special.
It was 13th time that Rafael Nadal had reached the French Open. However, it was not the unlucky thirteen for the King of Clay as he beat World No.1 Novak Djokovic in straight sets.
Read everything about tennis players with most number of weeks at number 1 on ATP World rankings
Djokovic had no answers to Nadal's supremacy in the first set as Djokovic lost the set 0-6. Then many thought there might be another Djokovic fight around the corner. But Nadal's brut force and fierce game plan made sure that there was no Djokovic corner at the Philippe-Chatrier Court. Nadal won the 6-2.
In the third set the World No.1 did look better but there is no chance for him against the greatest ever clay player in Rafael Nadal. Djokovic did resist Nadal for few games. But could not manage any breaks. Perhaps, it was Nadal who managed to get a break in the 11th game after Djokovic did an error of double fault. However, Nadal did not make any mistake as he took that break and went on to win the third set 5-7.
The final score line after only 2 hours and 41 minutes was-
| | | | | | |
| --- | --- | --- | --- | --- | --- |
| N. Djokovic (No.1) | 0 | 2 | 5 | – | – |
| R. Nadal(No.2) | 6 | 6 | 7 | – | – |
Final Score line in the final of French Open 2020
With this win at the French open 2020, Rafael Nadal registered his 100th win at the Ronald Garros, making him the only player to have that record. Perhaps, this suggests why he is considered as the king of clay.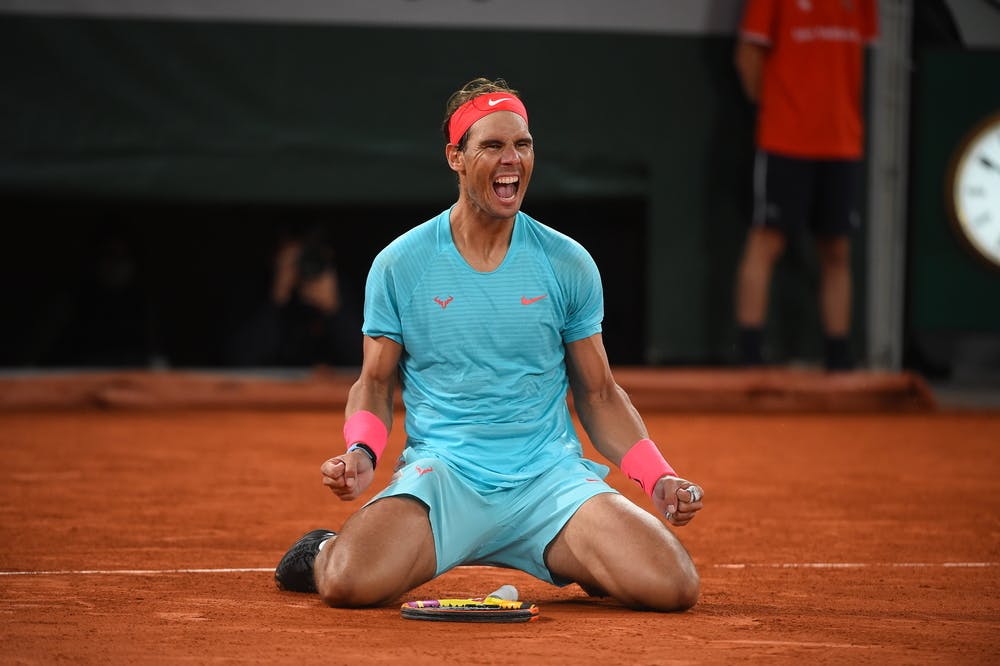 Also now, along with Roger Federer, Nadal has the the most number of grand slam wins or titles with 20. Earlier Roger had became the first ever Men's Tennis player to have 20 grand slam titles, now Nadal becomes the second.
Though there have been a great rivalry between Roger and Nadal, but there is lots of admiration and respect as well. Federer, did not waste any moment to congratulate Nadal for this great achievement of his.
I have always had the utmost respect for my friend Rafa as a person and as a champion. As my greatest rival over many years, I believe we have pushed each other to become better players. Therefore, it is a true honor for me to congratulate him on his 20th Grand Slam victory. It is especially amazing that he has now won Roland Garros an incredible 13 times, which is one of the greatest achievements in sport. I also congratulate his team, because nobody can do this alone. I hope 20 is just another step on the continuing journey for both of us. Well done, Rafa. You deserve it.

Federer on Rafael Nadal's 20th Grand Slam title win.
Nadal also showed his love towards Federer's efforts post his win at French Open 2020.
"I am a big fan of the history of sport in general. I respect that a lot. For me it means a lot to share this number with Roger, no? But let's see what's going on when we finish our careers – we keep playing."

Nadal on winning 20th grand slam title and become only the fourth open era tennis player with most grand slam titles
Djokovic was also in awe of the king of clay's performance and legacy-
Today you showed why you are the King of Clay," Djokovic said on court after the final. "Today I felt it with my own skin.

Djokovic to Nadal on wining the French Open 2020.