Generally, batsmen are the masters of the game. However, mostly the shorter batsmen are told to be more successful ones. From Sunil Gavaskar to Sachin, all the little masters have dominated the game as batsmen. Only a few of the tall batsmen have made a great mark in the game. Here's the list of Top 10 Tallest Batsmen In Cricket History. Obviously, you will get the answer to the question of who is the tallest batsman in cricket history.
Top 10 Tallest Batsmen In Cricket History
#1 Jason Holder (West Indies)
Height: 201 cm
Jason Holder is the tallest batsman ever in cricket history. The West Indian captain is one of the best all-rounders in the current era. At 23 years and 343 days, Holder was also the second youngest West- Indian captain ever in Test Cricket. Despite his team losing, for his gritty nature with bat and ball, Holder is considered to be the future of West Indies cricket.
Read more: Every IPL emerging player of the year from season one
#2 Tom Moody (Australia)
Height: 199 cm
Till Jason Holder had arrived in the international arena, Tom Moddy was the tallest batsman in world cricket ever. Like Holder, Moddy was also a great all-rounder for team Australia. For his height, some of his nicknames are Long Tom, Big Tom, etc. Moody had a successful cricketing life scoring 1,211 ODI runs and 52 wickets for Australia. However, his coaching career has been better with his contribution to the Sri Lanka cricket team. He was very much successful with Sun Risers Hyderabad in IPL as well.
Read more: 5 worst captains in IPL History
#3 Cameron Green (Australia)
Height: 198 cm
Cameron Green who is currently in the Australian Test squad which will host India from Dec 17th is one of the tallest batsmen of the current era. He is nearly as tall as 198 cm which also helps him play on those bouncy pitches of Australia. He has also scored a hundred against India A which had the bowlers like Ravi Ashwin, Umesh Yadav. Green is also considered as the next star of Australian Cricket by many Aussie legends.
Read more: Every Virat Kohli records from the recordbooks
Buy website traffic cheap
#4 Peter Fulton (New Zealand)
Height: 198 cm
Peter Fulton, 198 cm long is the tallest New Zeland cricketer ever. Fulton was called "Two-meter Peter" for his height. As a top-order batsman, he could not make a great mark on his first go. However, later 7 years after naming his test debut, in 2013, he showed his class as he scored his maiden test ton against England in Auckland. Overall in his career, he had scored only 2 test tons, which came in both innings of the same test.
#5 Tony Greig (England)
Height: 198 cm
Tony Grieg is considered as one of England's finest players. He was tall as 198 cm and could bat and bowl as well. He was the captain of the English Cricket team from 1975 to 1977. His influence on helping Karry Packer with getting the Pakistani and West Indian players to play the World Series Cricket, had cost him the captaincy of England Cricket. Post his retirement from the game, Grieg had established himself as one of the best commentator and broadcaster of his time. A long-term sufferer of epilepsy, he was diagnosed with lung cancer in October 2012. Greig died in Sydney, on 29 December 2012, from an apparent heart attack.
Read more: Most successful captains in IPL history
#6 George Bonnor (Australia)
Height: 198 cm
A brutal hitter of the cricket ball, George Bonnor was not only tall, but he was also very strong. During the Oval Test match of 1880 between England and Australia, he was out caught for two to a ball he had hit so high that by the time GF Grace had snaffled him, waiting directly underneath it on the boundary, he and his partner had almost completed their third run. He also had hit 160 yards over the boundary in actual play when, at Longsight in 1880, the Australians played the local XVIII. He was also the first-ever player to be out hit wicket in Tests and international cricket.
#7 Micheal Vandort (Sri Lanka)
Height: 196 cm
There is not been many tall players from Sri Lanka. However, Micheal Vandort from Sri Lanka happens to be one of the tallest batsmen in cricket history. A left-handed batsman who could bowl medium pace, Vandort could have been a great prospect for Sri Lankan cricket. However, he only could manage to play 20 tests and a single ODI match.
Read more: Every MS Dhoni records from the record books
#8 Clive Llyod (West Indies)
Height: 193 cm
One of the greatest captains ever in cricket history, Clive Lloyd is a legend of the game. He captained the West Indies between 1974 and 1985. During his captaincy, the side had a run of 27 matches without defeat, which included 11 wins in succession. He was the first West Indian player to earn 100 international caps. Lloyd scored 7,515 runs at Test level, at an average of 46.67. He hit 70 sixes in his Test career, which is the 14th highest number of any player. Llyod is also an ICC Hall of fame inductee.
Read more: The full list of ICC Hall of fame till 2020.
#9 Ravi Shastri (India)
Height: 191 cm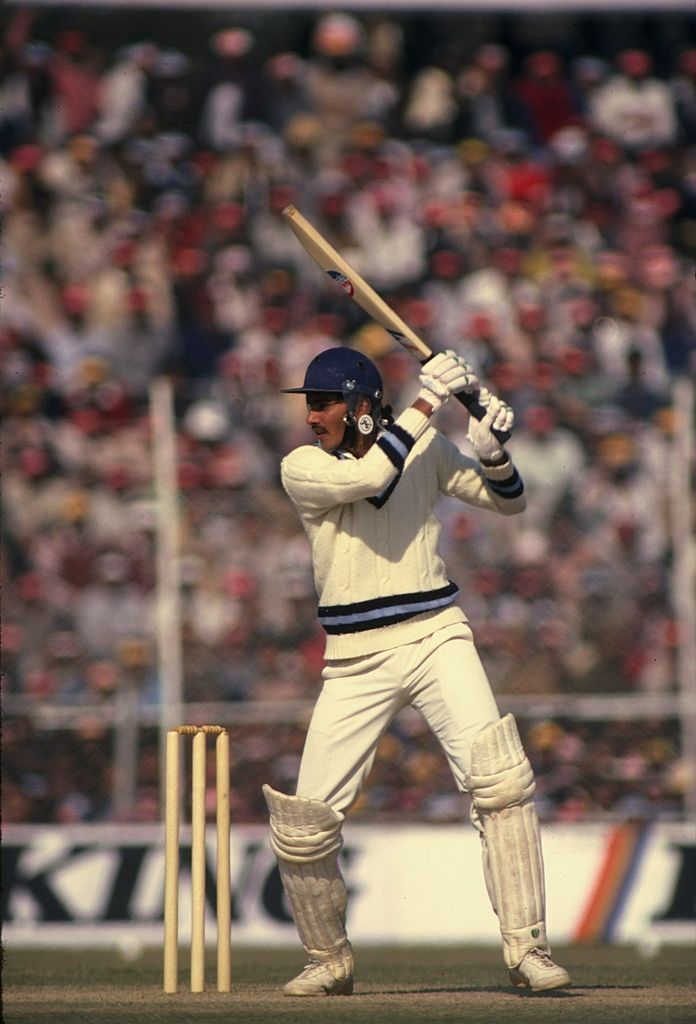 The current Indian head coach is still the tallest Indian batsmen in Indian cricket history. In a country that produced many batting legends with shorter heights, Shastri was very unique in his style. He was also the first-ever Indian to hit six sixes in an over in a first-class game. The highlight of his career was when he was elected Champion of Champions in the World Championship of Cricket in Australia in 1985. He was forced to retire at aged 31 due to a recurring knee injury. He had scored 3,830 test runs and taken 151 wickets in his 80 test matches for team India. Shastri is also famous for his commentary style and tone of voice.
#10 Chris Gayle
Height: 188 cm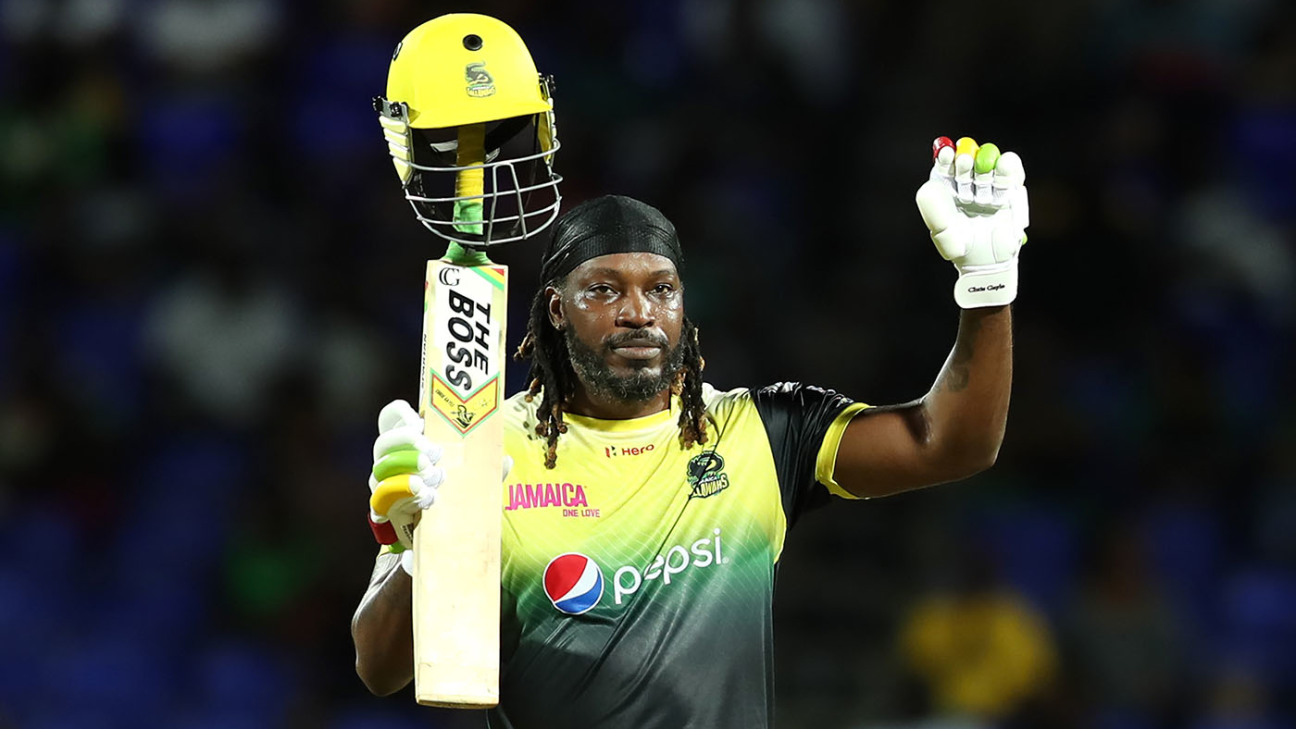 Regarded as the "Universe Boss", Chris Gayle is one of the giants of the game. Not only by the structure of his physique, but his brute strength and ability to hit sixes at will also makes him the giant of this game. He is considered as the all-time great T-20 batsman by many pundits of the game. He is the most capped player for the West Indies in international cricket and is the only player to score a triplet of centuries – a triple hundred in Tests, double hundred in ODIs, and a hundred in T20Is. Gayle is also the leading run-scorer for West Indies in the ODI format with 10,480 runs against his name.
Here is the list of Top 10 Tallest Batsmen In Cricket History. We hope you have enjoyed this article.
Sign Up for our newsletter to get more cricket info like this from us. Also, follow us on our Facebook page as well.